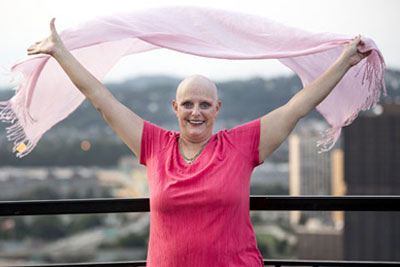 My name is Lisa and I was originally diagnosed in 2000 at the age of 34.
My boys were three and five years old. I was considered stage one and had a lumpectomy with chemo and radiation – and after five years was considered to be cancer free but still followed up with an annual mammogram.
I kept on track with my mammograms until I recently skipped the last two years. In March 2017 I had a mammogram that showed a tumor. We were hoping it was scar tissue but a needle biopsy confirmed that it was breast cancer. A PET scan revealed more cancer in my bones.
I now was a metastatic Breast cancer patient, 17 years after my first diagnosis. I went on to have a mastectomy in May and started chemotherapy in June. Reconstruction was not a possibility due to the previous radiation.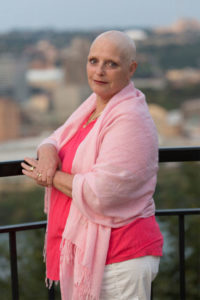 I am now finished with the major chemo drugs and my most recent PET scan shows improvement in my bones.
My son, Austin, is in the United States Marines. He is 23 years old. My son, Roland, is in the United States Army. He is 21 years old. They are both currently deployed overseas. I am more worried for my boys in these uncertain times than I am for myself. There are drugs and treatments to help minimize my cancer and it truly is in God's hands.
Worry will not change anything or make my cancer go away. There are young kids born with cancer, which is not fair – but I am lucky to have lived my life so far and raised my boys. I would like to stay as long as possible, but if it's not meant to be then I am alright with that. A positive outlook makes the journey a lot easier.
I was with another cancer patient who had been receiving chemo for eight months and said he had been horribly angry for the whole time. I asked him how that anger is working for him – anger only hurts you, it changes nothing.
One thing I do take very seriously is to be my own advocate. Over the years I have helped many of my relatives through cancer. I have learned that you must educate yourself and ask questions until you understand. Doctors have a huge patient load and each patient much must do as much as they can to help themselves and the doctor.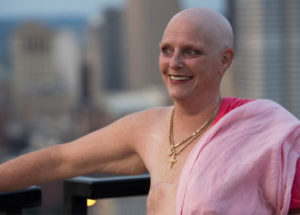 For example, I keep a calendar with all the medications that I take and what my side effects might be for that particular day. It helps when I take these records into the doctors' appointments and we can adjust based on what my side effects have been. Advocate for yourself, you know your body best. It's important to write it all down, it's too hard to rely on your memory. Be as detailed as you can be.
Don't worry about the things you can't change but make the effort to learn about the things that you can and make happy memories every day!!
You can support YWBCAF in Pittsburgh buy purchasing Pink Ribbon Bagels at the 31 Panera Locations or consider donating at ywbcaf.org/donate/ #youngbreastcancer #ywbcaf