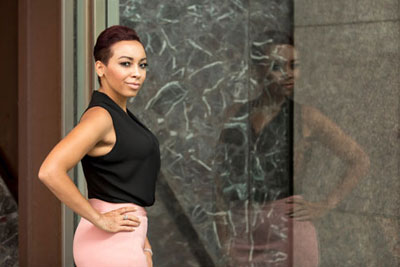 My name is Nicole and I am 31 years old. I am a mom of a 3 ½ year old daughter named Ava – I have an amazing boyfriend Marcus, who also has a 6 ½ year old daughter named Laylah that I love as my own.
I had recently lost 69 pounds and maintained a healthy eating regimen and lifestyle for 2 years since my weight-loss. I couldn't have been happier with myself and the direction I was heading. On Saturday, April 2nd, 2016, I stepped out of the shower and I felt a lump in my left breast. From that day on, at the age of 30, my life has forever changed.
My OB/GYN examined the lump in my left breast and was certain that it was a cyst or fibroadenoma of the breast. I was not as worried regarding the outcome. Since she could not confirm 100% without seeing it internally, she sent me directly to the Diagnostic Imaging Center down the hall to make an appointment for an ultrasound with a breast doctor.
The breast doctor conducted an ultrasound, she saw tissue in the mass along with abnormal sized lymph nodes in my left armpit. Being that a cyst is filled with fluid, the presence of tissue had become concerning to her. The mass was 3.3cm in size. I then needed to get an ultrasound-guided Breast Biopsy done on my left breast.
On Thursday, April 28, 2016, I went in for my scheduled breast biopsy. I was a nervous wreck because I did not know what to expect. I received 2 mammograms prior to my biopsy and once my biopsy was completed, I received a 3rd mammogram on just my left breast (location of the mass). I was back there for a long period of time and by the doctor's reaction to the mass, I knew something was not right. I left the facility wrapped up with ice packs and ace bandages to help with the pain and swelling.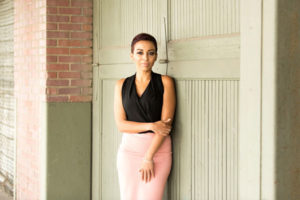 Monday, May 1st, the nurse contacted me with the results. By the tone of her voice and how hesitant she was to deliver the diagnosis, I knew then that the next words out of her mouth would forever affect me. I was diagnosed with Breast Cancer in my left breast. I dropped to my knees. The first thoughts that came to my mind were of my 2-year-old daughter. When you hear the big "C" word, a million thoughts run through your head. I could not imagine dying and having to leave my daughter and family behind. They are my entire world and I was more frightened for them, than for myself. I had to digest the news I just received and figure out how to inform my family. As you can imagine, everyone that was near and dear to me was completely devastated – but the support, love, and prayers started right away.
The next step was to go the Breast Center. On Friday I met my team of doctors and specialists, including my oncologist, breast surgeon, fertility specialist, patient navigator, and a genetics counselor. I had to get lab work done, undergo a Breast MRI, and a lymph node biopsy. After I received all my testing, the team of doctors met with me to go over my results and determine the best treatment plan.
They informed me I had ER+/PR-/Her2-, Stage 2 breast cancer, with the tumor at 4 cm in size growing rapidly at a 90% rate. Learning how fast my tumor was growing, I then learned I would need to undergo 6 months of chemotherapy followed by surgery and radiation. At this point, my world was completely turned upside down. Realizing that it could send my body into early menopause, possibly affecting my chances of fertility, I would lose my hair, and it would take a physical and emotional toll on my body – I just couldn't imagine how the next year of my life was going to be. It was such an emotional day for my family I to digest all of this, but I had to take these next steps in order to beat this.
My chemotherapy treatments consisted of 4 cycles of Adriamycin/Cytoxan (which would be every 21 days) followed by Taxol weekly x12. Midway through my first set of treatments, I would meet with my surgeon to discuss my surgery options and see how far my tumor has responded to the chemo. I would then complete my 12 weekly Taxol treatments, wait a month, then have my surgery followed by radiation. Before I began my treatments, I had to undergo more testing. I had to undergo a CT Scan, body scan, and have an echocardiogram done on my heart. Fortunately, my cancer did not spread or metastasize, and I did not carry the breast cancer gene based off the genetic testing that was done.
This was good news for me and my daughter. It was a great relief during this stressful time.
On Tuesday, May 17th, 2016 I began my first chemotherapy treatment. I did not know what to expect and was quite nervous. It was overwhelming and took a toll on me emotionally, mentally, and physically. I was sick, nauseated, and very fatigued. My mouth tasted like metal; nothing tasted the same. Within a few weeks, my hair started to thin out and my scalp became sensitive. Prior to my next treatment, I had cut all my hair off in preparation to go completely bald. After my second treatment, which was delayed a week to my low blood counts, my remaining hair started to fall out and bald spots started to show on my head. By my 4th and final dosage of A/C, I was completely bald – I started to lose my lashes and my eyebrows thinned out dramatically. My appearance changed so much. Amid all of this, I had lost my job in July 2016. It was hard and tough, but my family, friends, and my faith were helping me get through it.
My last A/C dosage could not come fast enough, as I was sick pretty much for 3 months straight. Now it was time to begin my 12 weekly treatments.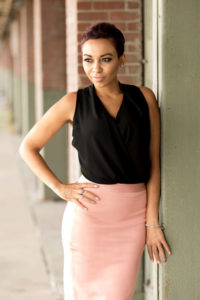 I had completed my chemo as of November 1st, 2016 and I had a Lumpectomy on November 30th of 2016. Being that all my margins came back clear except for one, I had to go back in for a second surgery on December 23rd. After the 1st of the year, I began 6 weeks of daily radiation completed 36 treatments in March of this year. Upon completing my radiation treatments, I developed axillary-web syndrome AKA cording from having 4 lymph nodes removed and biopsy during my surgery. I was unable to elevate my arm but so much and I had to receive roughly 4 weeks of physical therapy from a PT specializing in lymphedema. Currently, I am on an anti-estrogen medication for the next 5 years known as Exemestane along with receiving an ovarian suppression shot, Zoladex, monthly.
Although it's been a long and emotional journey and has taken a huge toll on my body, I remain active. I have also maintained a healthy lifestyle on Weight Watchers. Since then, I have been honored with the opportunity to appear in the October 2017 Issue of the Weight Watcher's Magazine alongside two other Breast Cancer survivors. Our stories also appear on the Weight Watchers website under the success stories. I am also part of Project L.I.F.T. (Live Inspired, Fight Together), a collaboration between the American Cancer Society and Weight Watchers that aims to inspire and guide breast cancer survivors who are tackling unexpected weight gain that can occur post-treatment. By doing so, I appeared in a segment on KDKA's Pittsburgh Today Live, talking about my journey and how WW has impacted my journey and my post-treatment weight gain.
I am truly grateful for YWBCAF, Jen Kehm, and being a part of this foundation with other truly inspiring and amazing young women who battled this beast. My goal is to inspire and encourage other women through sharing my story and letting them know, "I get it," and that we are all warriors in our own right. Thank you for this opportunity in letting me share my story.
You can support YWBCAF in Pittsburgh buy purchasing Pink Ribbon Bagels at the 31 Panera Locations or consider  donating at ywbcaf.org/donate/  #youngbreastcancer #ywbcaf