At age 33, I spent Valentine's Day getting a breast biopsy and joking with the radiologist about it being the least romantic Valentine's Day ever. A few days later, he called me as I was driving my two-year old home from daycare. I pulled over and parked my car in a cake shop parking lot to take the call. A few minutes later, I was calling my family to say that I loved them and that I also had cancer.
I spent countless days in bright, cold exam rooms losing touch with what it felt like to be young. I rocked my son to sleep at night and wondered if I'd see him grow up. My heart was broken. My husband and I had been trying to get pregnant and now we were forced to put those plans aside. In May of that year, I had a bilateral mastectomy and began the process of reconstruction.
Time went on and I began to get stronger.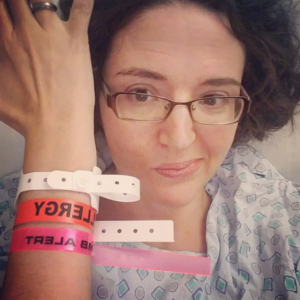 We caught the cancer early but a series of complications and relentless drug allergies to multiple medications made me very ill and left me weak and unable to receive my treatment as intended.
In the first year after diagnosis, I would lose nearly 40 pounds and become sicker than I had ever been. That winter, after months of fear and uncertainty, I completed a rapid drug allergy de-sensitization and was finally able to tolerate the full dose of medicine, which I now take every day. This required a great deal of coordination due to my situation being so uncommon and it felt like a huge accomplishment.
Not long after that, I learned I had developed osteoporosis and began treatment. Once again, I battled a drug allergy and side effects, which further decreased my quality of life. I pressed forward, received another de-sensitization, and began to make plans for the future.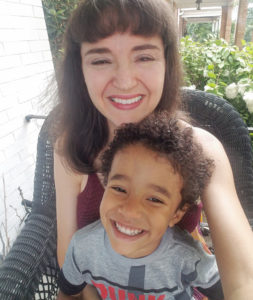 Along the way, I joined the Young Women's Breast Cancer Awareness Foundation and met other young women who would become like sisters to me. They would see me through some of my darkest days and some of my happiest ones, too. Being diagnosed with cancer at a young age can be incredibly isolating, but because of YWBCAF I felt supported by women who knew what it meant to be young and grappling with death.
My thirties have not been what I had imagined: I will probably never have the second child I dreamt of or feel as well as I did before cancer, but I am still here and I am so incredibly grateful for each day I get on this Earth with my friends and family. That is enough.