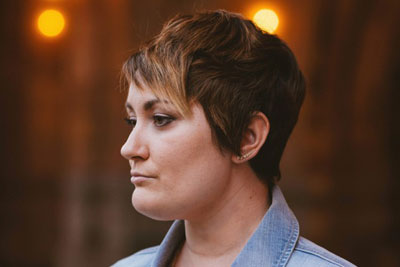 Last summer on June 10, 2015, at 31, I got the worst phone call of my life. I found out that biopsies confirmed I had estrogen receptor positive breast cancer. The doctor regretfully said that the adjacent lymph node also tested positive for cancer making me a Stage 2A. My world came crashing down and to a screeching halt, as I sobbed uncontrollably, looking at my 18 month old baby, who was also shaken because mommy was. I knew I was in for the fight of my life.
I went to Magee immediately and saw Dr. Emilia Diego. I clicked with her instantaneously! When she told me from my pathology results that I would absolutely need strong dose dense chemotherapy, she could see the color leave my face and tears fill my eyes. She grabbed both of my hands and told me she would take good care of me, and that I was going to be ok. I believed her, and continued moving forward. I went to the beach with my family the next week knowing that I would come back to fighting for one whole year.
After my first chemotherapy, I had a severe allergic reaction to the nausea meds they prescribed called dystonia. So freaky, don't google it! Due to that medicine not doing its job, I vomited for hours while my baby pounded on the bedroom door wanting his mom and I couldn't hold him because I was crawling on my hands and knees to the bathroom. How would I get through 6 months of this I thought? After the first dose was behind me, my Doctor came up with a new game plan that began to work better for me. Going forward, I tried to keep a positive attitude the whole time. My incrediblly supportive family helped me through all of it, spending each day with my son day in and day out. When I was too weak to lift him, they were there. After every treatment, every surgery, they were there.
My bilateral masectomy followed my 6 months of chemotherapy, which I had chosen to do for my family and I. At that point I just wanted the cancer out, as some cells still remained after chemo. I was a smaller D cup before the surgery, and even today looking down at my flat chest, seeing my 2 long horizontal scars is extremely difficult. My wonderful husband reassures me each day that I made the right choice. I had benign lumps in the other non-cancerous breast, and I knew in my gut that God was telling me it was the right choice for me.
Radiation then soon followed for 6 weeks, 5 days a week. I am fair skinned and got so burnt that I was blistered so badly I couldn't put a shirt on. The radiation wasn't terrible compared to chemotherapy and the surgery, but it made me incredibly tired. Again, my family was there.
I sit here today "cancer free," but like so many breast cancer survivors, so much lies ahead. I have reconstructive surgeries to feel complete again. They will be taking muscles from my back so that the radiated chest wall can hold an implant correctly. I just had my ovaries and fallopian tubes removed four weeks ago to hault my estrogen production since my cancer was strongly estrogen positive. I am still adjusting to the new cancer medication I am on for 5 to 10 years, which is a hormone therapy. Going through menapause in your early 30s is a lot different than going through it when the average woman does. Surgical menapause is intense, but I know this is my best shot at my cancer staying away.
My happiness through all of this is knowing that I will get to see my son grow-up. I went to the doctor when something didn't feel quite right, and that hospital visit saved my life, I was my own advocate. I wouldn't have had a mammogram for 10 years. I know I wouldn't be here today. Thankfully, my son won't remember this when he's older but I will be able to share with him how this struggle made me a better person because of it. I can now see a positive in every situation, and I will never take a day for granted.
-Erin B.