At the age of just 39, in the summer of 2007, following a baseline screening mammogram, I was called and told the findings were inconclusive and the recommendation was to follow up in six months. Although I was not particularly worried, I still took quick action and made an appointment for a diagnostic mammogram the following week. Sitting in the waiting room as they continued to take more and more images, I grew increasingly concerned. Alone, I found myself side by side with the radiologist as she explained her suspicions: I was diagnosed with diffuse, high grade ductal carcinoma in situ (DCIS) breast cancer. I was in shock. The only thing I could think of were my children, aged ten and six at the time.
As a pharmacist with prior work experience at the Pittsburgh Cancer Institute, I was fortunate to have knowledge and colleagues to help synthesize the overwhelming amount of information and decisions ahead in the process. I now refer to this as the "diagnostic vortex", where every test will answer certain questions, but also generate new questions. Within a month, after many appointments, biopsies, CT scans, and genetic counseling, I decided to have a mastectomy with TRAM breast reconstruction.
I had a very difficult time recovering from this 12-hour surgery. Physically, the pain was unbearable and because of abdominal complications, I was not allowed to stand for six weeks. Emotionally, I was heartbroken. I did not recognize myself in the mirror. At the same time, I have some of the sweetest memories of my children sitting with me every day after school, kissing me, making me laugh, playing games, and reminding me to be strong. Eventually I recovered and felt empowered. I looked forward to putting cancer in the rear-view mirror.
Sixteen months later in February of 2009, despite the mastectomy, I was diagnosed with a recurrence: invasive ductal carcinoma (IDC) breast cancer, estrogen, progesterone, and HER-2 positive, in the chest wall of the left breast. Over the span of the next 12 months, I went through more surgery, 18 weeks (six cycles) of chemotherapy with Herceptin continuing for a total of 52 weeks (17 cycles), and six weeks of radiation.
I can never repay my family and friends for their unwavering support through an incredibly difficult year. Whether it was carpooling, delivering flowers, providing meals, rides to doctors' appointments, or just a shoulder to cry on, I am eternally thankful.
I am 52 years old now, 10 years out from my last Herceptin treatment, and filled with gratitude that I have been given the gift of time with my children, my family and my friends. My journey has taught me some important lessons that I share with you:
Move quickly if you think there is something that is in question.
Focus on the positive aspects of life.
Try to see the moments of joy that may not have appeared if not for the struggle.
You will come to know a whole new level of gratitude.
Look to the future with hope rather than fear.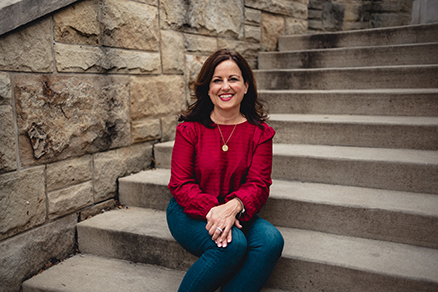 Cancer never really goes away. It has affected every part of my life: my children, my marriage and my career, but I am one of the lucky ones. I have been given the chance to keep living and fighting knowing the future has no guarantees.
My hope is that research focuses on the metastatic community. Regardless of the initial diagnosis, 30 percent of all breast cancer patients go on to develop metastatic disease, where the average survival is only three years. Everyone's journey with breast cancer is different, nobody's journey with breast cancer is easy. Once you go through cancer, you will be stronger than you ever imagined and almost every challenge, whether business, personal or a pandemic, will pale in comparison to your strength.