My story is quite an enigma that many, including myself don't hear much about. I was diagnosed in December 2016 with Stage IV, De Novo (from onset or beginning) Metastatic Breast Cancer at the age of 35, while I was 7 months pregnant with my second son.
I had been struggling with the most intense back pain I'd ever experienced for about 3 months. Everyone from family and friends to my OB's and ER doctors associated this with my pregnancy and "the way the baby is laying." I can't tell you how many times I'd heard, "oh, it's the baby, probably pinching a nerve or something." But I'd known nearly from the start that there must be something greater going on. Over the course of these three months, I experienced extreme, mind-numbing, body contorting pain that ranged from my hips/groin up my back, around to my ribs and through my chest. Some of this pain being constant, some of it being only what I can describe at spams that would hold so tightly around my diaphragm that my breath would be taken away for a few seconds. I remember a conversation and google search with a co-worker because I was certain something was wrong, I remember saying, "I have to have Fibromyalgia or something, because this is not normal."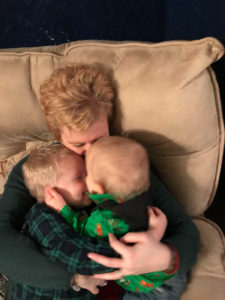 After several trips to the doctor and at least 3 trips to the emergency room, I would finally meet with a doctor at Magee Hospital in Pittsburgh, that after really listening to me, finally made the decision to send me for imaging. That night, I'd been having "my normal" amount of pain but was also getting a cold and would cough so deeply at just the right time as one of these "spasms" which resulted in me fracturing a rib, so off to the ER we went.
When the ER Doctor returned after my Chest CT, she walked in with a nurse, which I knew wasn't good, and she proceeded to tell my husband and I that I had in fact fractured a rib, (to which I shot him an "I told you so" look), and went on to explain that she had more concerning news, that I'd shown several lesions on my spine and ribs, and that they were going to admit me for most testing and that she was extremely concerns that I'd had some sort of Cancer.
CANCER! At 35 yrs old and pregnant with baby #2! My immediate reaction was "these are only words, she doesn't know for sure and we don't know how or what kind. We can't' panic now."
So, after being admitted and my husband having to make those gut retching phone calls to both of our mothers, I was sent for CT, Pet Scan, X-Ray, MRI, and Breast and Femur biopsy it had been determined that I had Metastatic (Stage IV) Breast Cancer. Which I am embarrassed to say that I had to Google because I'd never heard the word "Metastatic." My Breast Cancer had spread from my right breast, to my left femur, both hips, lumbar spine, thoracic spine (with fracture and compressed vertebrae), ribs, sternum and skull. I began a weekly regimen of IV Chemo (Taxol) until a week before giving birth.
And all I could do was cry. I was frozen. How was it that I have this life-threatening Cancer when I had a four-year-old Son at home and was about to give birth to our second son in February?
We let this sink in over the next few weeks while I was essentially placed on bed rest, and non-weight bearing on my left leg because there was so much disease in my left femur that I'd need to have a nail placed in my leg to support my leg and hopefully prevent further injury or break.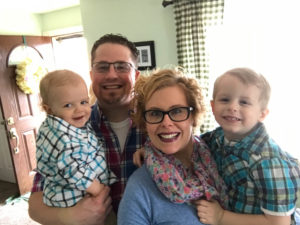 My family and I somehow muddled through the holidays and put on a brave face to make things as normal for my son as possible. Then on January 31, 2017 I returned to the hospital to deliver my son via C-Section and immediately after, have my femur surgery.
My newborn stayed in the NICU for 2 weeks due to oxygen levels and side-effects from the various pain meds. I was on while still pregnant, and I stayed as well to recover and get pain under control. And on February 14th, we went home as a family to find our "new normal."
I returned to work full-time and Chemo (Taxol) a few weeks after giving birth and this remained constant for 8 months. This treatment reduced the size of a lesion on my skull and 1/3 on my Liver. Once my scans had shown stability for a few months, I switched to Hormone Therapy, to hopefully improve my "quality of life" and have remained stable ever since.
What I struggle with is that "quality of life" is all I can work on or improve. There will never be a "cure" for my disease. With the national average life for Stage IV Breast Cancer patients being 36 months, I'm narrowing in on 24months. And I can't help but think sometimes about the things that cancer has taken away from me without my permission; my body, future, my career, confidence, my dream, the possibility to grow our family and the opportunity to see our current family grow. Currently, I prepare for have surgery to have my ovaries removed as the medication to suppress them hasn't been working to potential. I've had to give up my career, a normal life with my young children and husband, and the idea that I'll see my boys grow and meet milestones in their lives. While I remain hopeful and trust in God, and my Treatment Team, I know I'll never dance with my sons at their weddings or hold a grandchild, I won't enjoy retirement, old age, or a happily ever after with my husband. This fall, our oldest son began pre-school and I'm happy to have been here to see it. With the help of my husband and our family and friends, I try to stay positive. I try to be present and, in the moment, not breaking down each time I look into my baby's eyes and wonder if I'll still be here within a year to see how they'll grow and develop. I try to remain patient with people as they offer support and words of wisdom, tell me I "look great," (because I don't look sick), and ask me when I'll "be done with treatment," or tell me I'm "going to beat this." Because the fact remains that I will only "be done with treatment" when my life runs out because there are no further treatments to help me and I won't "beat this."
The one emotion that overwhelms me nearly every day is Guilt. The guilt for putting an immense amount of pressure on my husband to care for me and our family, all on his own at times. The guilt that I can't give my ALL to my children and be present with them every day, as I am often far too sick or fatigued to even peel myself out of bed. And of course, the guilt that my death will eventually destroy my family. My husband and young boys, my parents who'll have to bury their daughter, my brother who'll lose his only sister far sooner than imagined, my young nieces and nephews, my very best friends and their young children who have become a staple in my life. The ripple effect runs deep.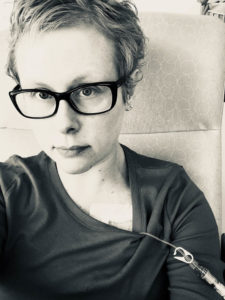 I learned somewhere, way back in college that our first long-term memories are formed somewhere around the age of 6 years old, barring any trauma or life changing event (a birth, a death, a major change). So, I'm left wondering if I will live long enough for my babies to even remember me? Or if losing me will in fact be their first lasting memory? I don't know which aches more.
And so, the thought that remains, the prayer, the wish, whatever you believe, is that I need more time. I need time to be with my husband and in my babies lives and to watch them grow and be there for them for the things that only a mom can. Little boys need their Moms.
If you would like to donate to help support research for Stage IV Breast Cancer patients, please donate to agencies that ensure funds are delegated to Stage IV research.
ywbcaf.org/donate
Metavivor.org
#youngbreastcancer  #ywbcaf